Order Quality Ford Parts at Steve Faulkner Ford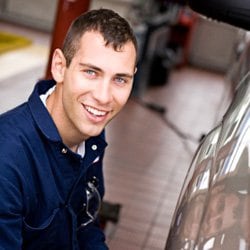 When performing work on your own vehicle, or when getting service done for you, it's important that your vehicle only uses parts made by the original equipment manufacturer, or OEM. Otherwise, you could find yourself dealing with unreliable, ineffective or even dangerous products.
Here at our Mount Carmel, IL dealership, we're committed to providing genuine, dependable Ford parts and have worked to make the ordering process hassle-free. Keep reading to discover the benefits of buying automotive components from our parts center.
Why Order Genuine Ford Parts
There are two general types of vehicle parts you'll typically find for sale. Aftermarket products are often sold at a lower price point, which can be quite appealing for many Vincennes customers. However, these parts are built by an independent source to fit a variety of vehicle models, not just yours.
You never know what you're getting when you order aftermarket parts. You could find that the part doesn't fit properly or work as it should. It's also possible that such parts won't be constructed to high standards, meaning they're not likely to last as long as they should.
Genuine OEM Ford parts are made and backed by Ford itself. You can depend on genuine Ford parts to perform exceptionally on the streets of Princeton, IN and beyond. Plus, they offer a warranty on these parts for added peace of mind.
Popular Parts We Carry
We strive to carry a wide selection of the most commonly requested parts and accessories our customers near Sumner want. You'll find a host of products for all your jobs.
Some of the most common parts we carry include:
Oil filters
Batteries
Tires
Wiper blades
Air filters
Spark plugs
Head- and taillights
Mufflers
Belts and hoses
Alternator
Shocks and struts
Pumps
Replacing worn parts is essential to the performance of your vehicle. Timely replacement can also prevent breakdowns outside Lawrenceville, IL.
Order Ford Parts Online
The easiest way to order Ford parts from us is to submit a form on our website. It's easy to navigate and can be completed according to your schedule, and we would be happy to help you with installing any parts you need at our service center!