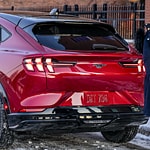 The 2023 Ford Mustang Mach-E is an all-electric SUV that combines classic muscle car style with cutting-edge technology. This new model from the Ford Motor Company has something for everyone, from tech enthusiasts to car lovers. Let's take a look at some of the impressive features of this vehicle.
Fully Digital Instrument Panel
One feature that makes this car stand out is its SYNC 4A infotainment system. This system includes a 15.5-inch fully digital instrument panel with voice recognition capabilities and Apple CarPlay and Android Auto compatibility.